ホームズ研究室へようこそ
新たな材料・ナノ構造の光物質について研究しています。特に、量子情報処理の実現に向けて、単一光子源素子の実現とその技術などを開発しています。ナノ量子情報エレクトロニクス研究機構の荒川研究室と生産技術研究所の岩本研究室との共同研究や、海外の研究グループとの国際的な共同研究に取り組んでいます。

News
2018/09/19:

応用物理学会秋季学術講演会で、高くんが発表2件をしました. お疲れ様!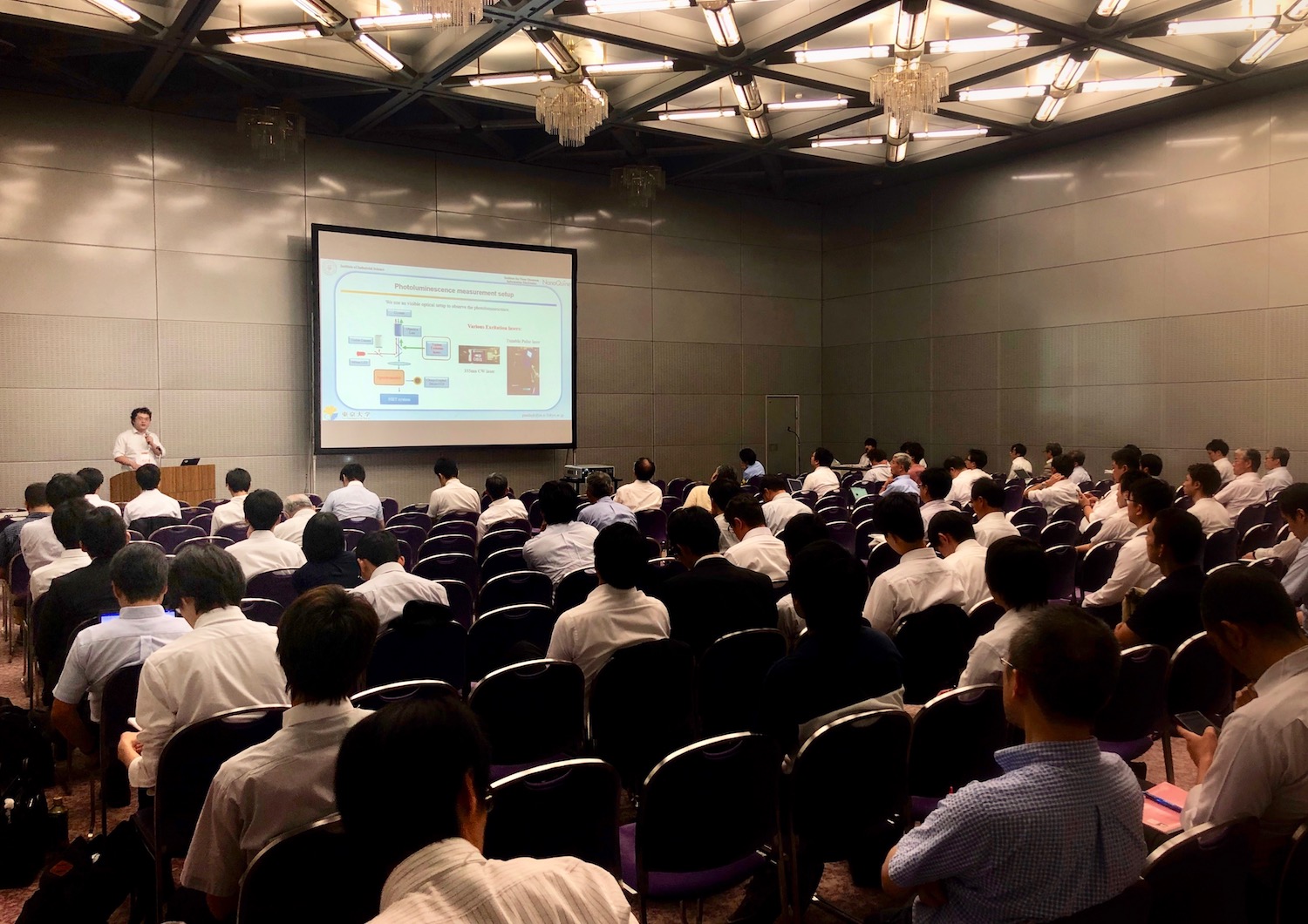 2018/09/10:

InGaN量子ドット単一光子発生の特性改善にに関する論文がApplied Physics Letters国際科学雑誌に出版されました(イギリス、ケンブリッジ大学との共同研究)。論文は こちらからダウンロード可能。
2018/02/09:

ホームズが"Tokyo Nerd Nite"にて、「光とその量子技術」についての講演を行いました. (Photos by Andrew and John).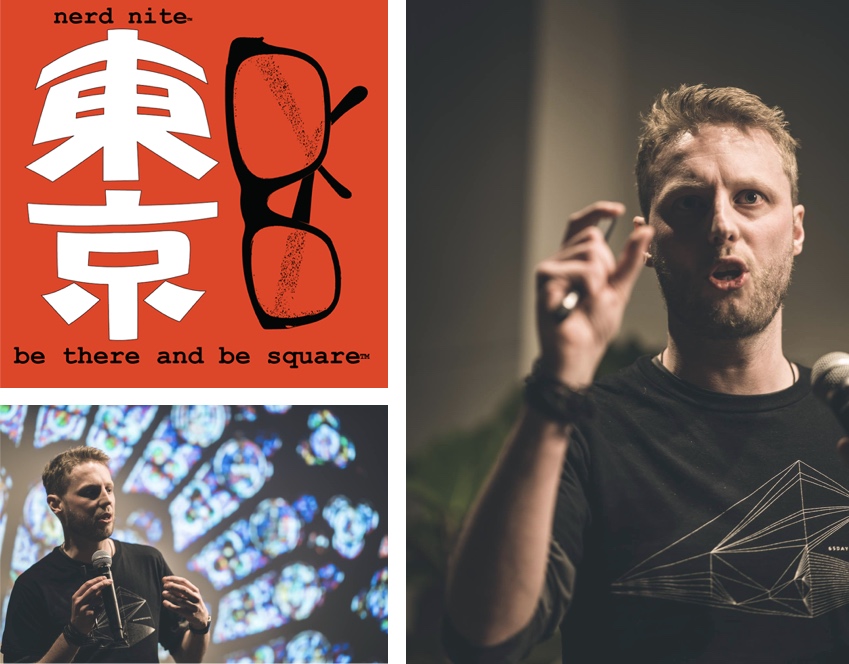 2017/12/12:

高亢がISPEC2017学会でポスター発表を行いました。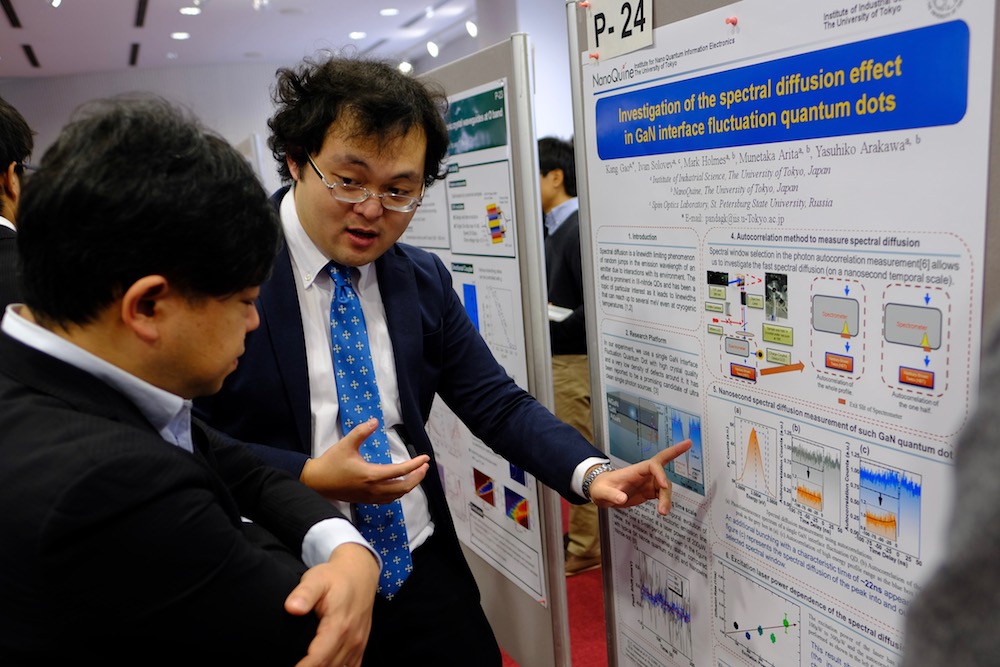 2017/07/12:

UK Semiconductors 2017会議にて招待講演。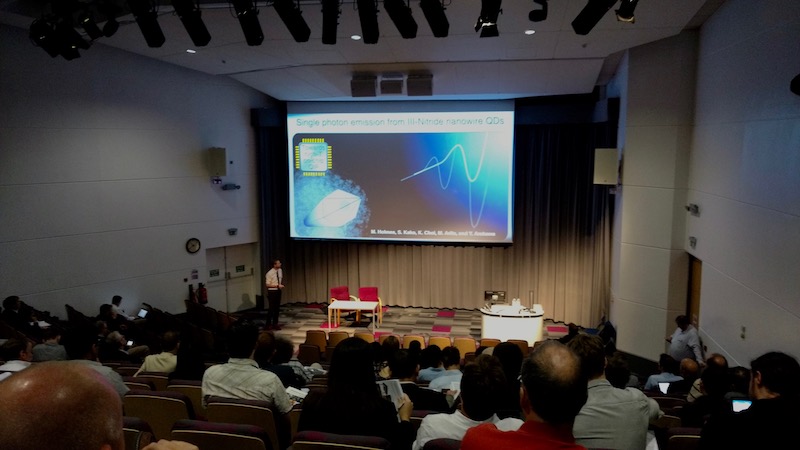 2017/06/14:

日本語サイト公開!
2017/06/01:

Experiment section added to this website, complete with photos of the new measurement system!
2017/04/24:

Paper on "Ultraclean Single Photon Emission from a GaN Quantum Dot" has been accepted for publication in Nano Letters. Congratulations to all involved!
2017/03/22:

Invited presentation given at the 2017 General Conference of the Institute of Electronics, Information and Communication Engineers, held at Meijo University, Nagoya, Japan.
2017/03/16:

Presentation given at the Japan Society of Applied Physics Spring Meeting 2017 held at Yokohama, Japan. I'm honored that this presentation was selected as "one to watch" by the conference committee.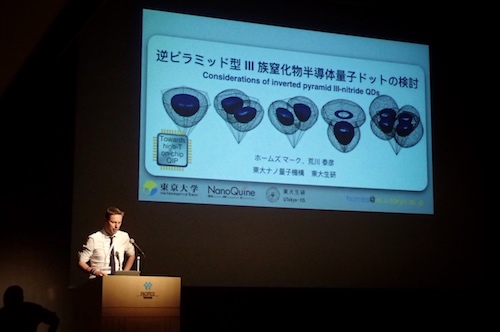 2017/03/10:

Invited talk on single photon emitters given at the International Symposium on Photonics and Electronics Science and Engineering 2017 held at Kyoto University, Kyoto.
2017/03/02:

Invited talk given at the JSAP Workshop on Quantum Information and Related Fields held at the National Institute of Informatics, Tokyo.
2017/02/13:

Paper on "Emission of linearly polarized single photons from quantum dots contained in nonpolar, semipolar and polar sections of pencil-like InGaN/GaN nanowires" in collaboration with Universidad Politecnica de Madrid, Universidad Autonoma de Madrid, and Otto-von-Guericke-University Magdeburg has been accepted for publication in ACS Photonics. Congratulations to all involved! Otsukaresama!
2016/11/07:

Introductory presentation at the Institute of Industrial Science's "SEIKEN SALON", The University of Tokyo.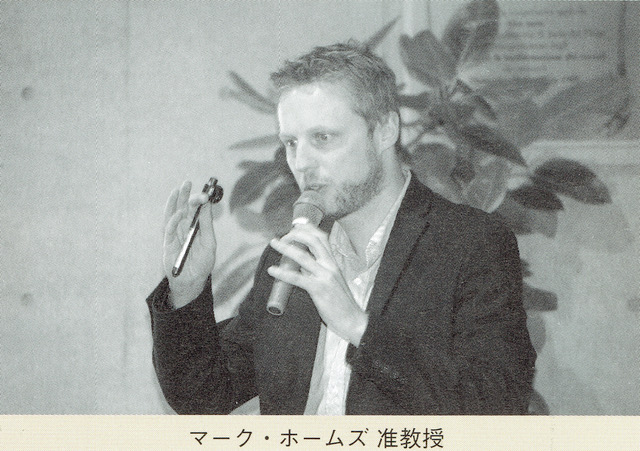 2016/09/01:

Holmes lab is opened